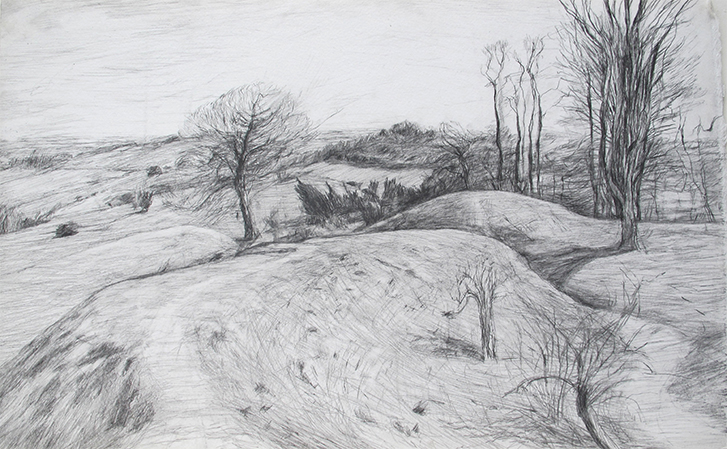 No 13
Danebury
Danebury, an Iron Age hill fort North West of Winchester, has been in use for approximately 500 years. The Danebury drawing was made over several months, at the same time each day, in an attempt to dislodge the drawing from one particular moment and to create a feeling of extended time.
As part of this attempt, photographs of the drawing process were taken at half hour intervals. This resulted in a short film, youtube.com showing the decision making process in progress; adding, rubbing out, adding again. Eventually, a work emerged that felt as complete as it could be for that moment. The poet, Alice Oswald described this process as 'reverse archaeology'.
The soundtrack of the film came from an irritation that then presented itself as a solution. The sound of a military helicopter flying nearer and nearer, then into the distance, using Danebury as a focal point for an army exercise. The unaligned, double North East gate in the drawing was key to the defense of the hill fort in the Iron Age and judging by the helicopter presence, continues to be in present times.
Danebury near North East gate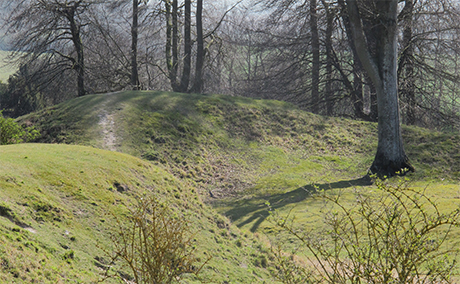 Danebury sheep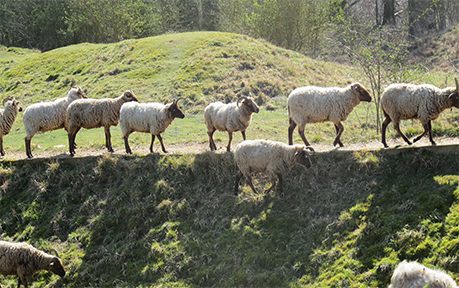 Danebury drawing on a Spring day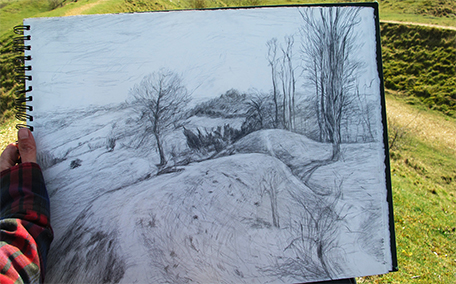 Horatio's Garden Residencies
Landscape viewed from Horatio's Garden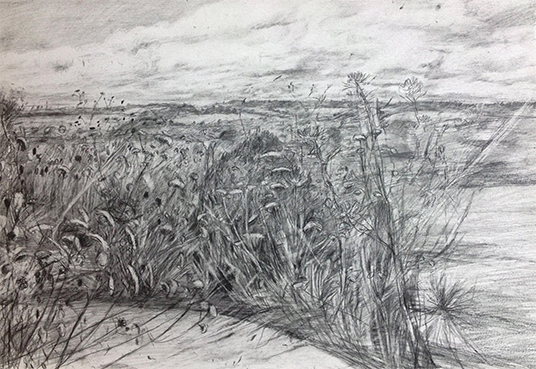 September 2013
Dr Zena Kamash, senior researcher on the EnglaID project and Miranda Creswell spent a month working in Horatio's garden, which forms part of the Spinal Treatment Centre at Salisbury Hospital.
Cleve West designed the garden after the tragic death of Horatio Chapple, who was a volunteer at the Spinal Treatment Centre in his school holidays. In January 2015, he won 3 awards for the garden at the Society of Garden Designers Awards.
We believe this archaeology and art residency marks the first time that an archaeologist, an artist and members of a hospital have collaborated in a hospital garden project.
A month followed of collaborative work and many conversations between artist, archaeologist, patients and hospital staff, focusing on the view of the landscape from the garden. There was then an exhibition and a series of talks given by 4 patients, Miranda Creswell and Zena Kamash, attended by 58 patients, staff and visitors.
Horatio's Garden drawing on site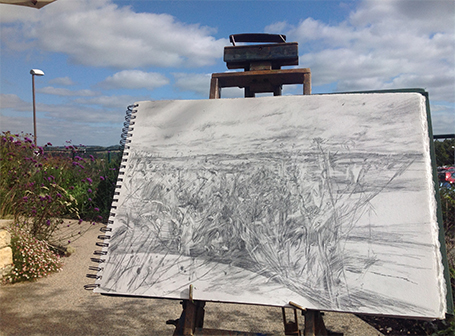 Conversations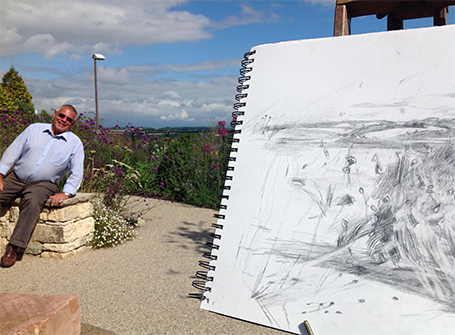 Horatio's Garden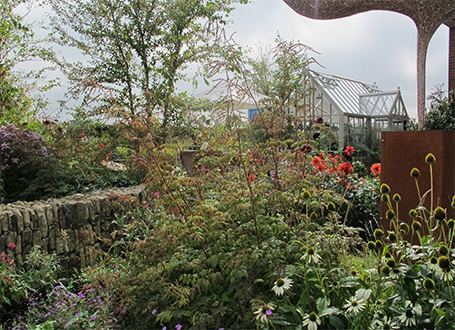 Miranda and Janina, a patient at the spinal unit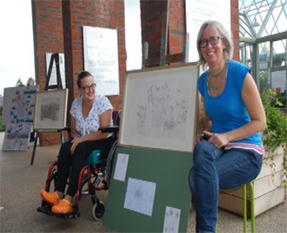 Zena Kamash working in the hospital garden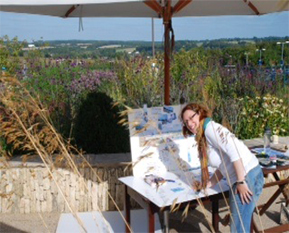 Olivia Chapple in Horatio's Garden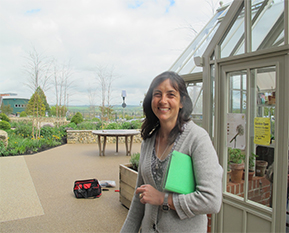 Plant Biographies in Horatio's Garden
September 2014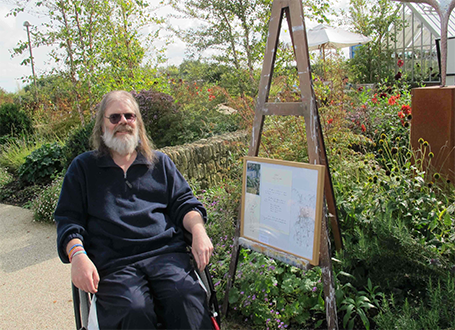 A month of collaborative work between Miranda Creswell, EnglaID researchers; Dr Letty Ten Harkel and Sarah Mallet. Steven, Graham and other patients from the Spinal Unit, focused closely on the biography of five key plants growing in the garden.
The previous year the landscape from the garden had been researched, this year individual plants, their histories and origins were looked at from different angles, with surprising results. The Dahlia Honka white, for instance, is a plant first grown by the Aztecs for use as a food crop.
Each final work was an amalgamation of a drawing, by Miranda Creswell, a piece of research, hand written by Letty Ten Harkel and Sarah Mallet, a map drawn by Steven and a photograph taken by Olivia Chapple. Additional work was made by Graham. A long list of other patients and volunteers helped with their knowledge of working with plants. Each piece was displayed within the garden, close to where the original plant grew.
Miranda at plant biography event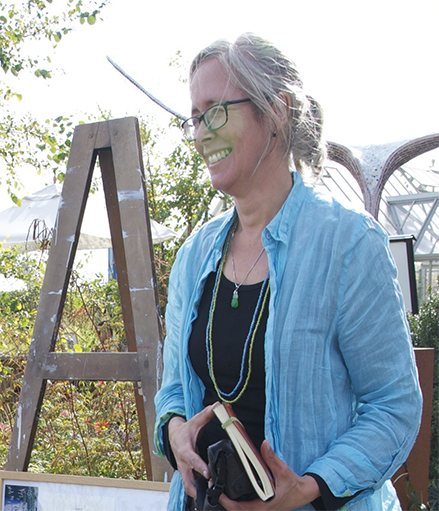 Sarah Mallet and plant biography team
Aruncus Horatio
Dahlia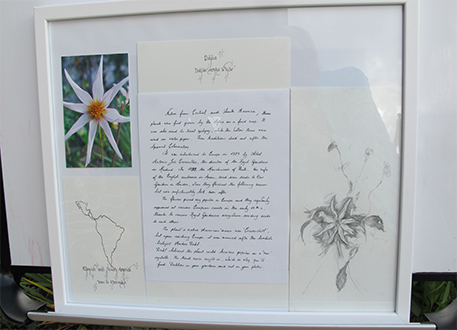 Tall Verbena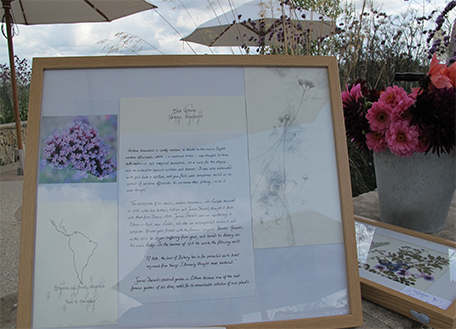 Echinacea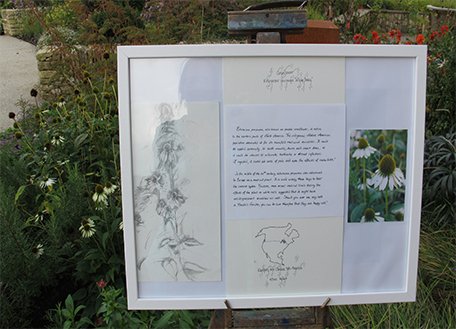 Graham's plant work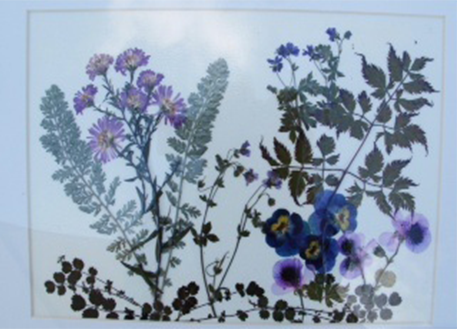 Letty Ten Harkel